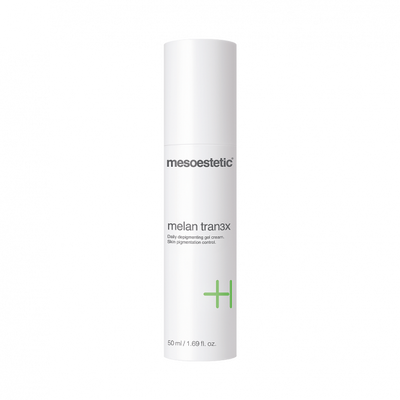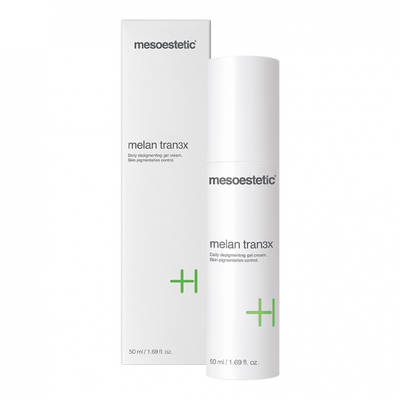 mesoestetic | melan tran3x gel cream | 50 ml
Mesoestetic
$119.00
Depigmenting cream for daily use that acts gradually on epidermal dark spots to give a more uniform skin tone.
melan tran3x is the latest-generation depigmenting programme with tranexamic acid that helps correct pigmentation imperfections. It combines a concentrate with a gel cream.
- melan tran3x concentrate. Intensive depigmenting agent that acts on excessive epidermal pigmentation by visibly reducing dark spots.
- melan tran3x gel cream. Depigmenting cream that acts gradually to give a more uniform skin tone.
Active ingredients
Tranexamic acid
Hydroxiacid complex
Niacinamide
Tyr control complex
twice a day, morning and evening.
Topical use. Use daily, morning and evening. Apply 3-4 drops of melan tran3x concentrate to clean, dry, unbroken skin and distribute evenly. Then apply melan tran3x cream gel and massage in until fully absorbed. Do not rinse. In the event of direct sun exposure apply a very high sun protection and limit the application of melan tran3x concentrate to night use.
About Mesoestetic
Mesoestetic has an international reputation in the field of cosmetic medicine and is recognised as one of the world's leading pharmaceutical laboratories for its depigmentation treatments (Cosmelan/Dermamelan). Mesoestetic also manufactures homecare products containing maximum concentrations of active ingredients and advanced anti-ageing treatments. All Mesoestetic products and treatments have been rigorously tested and endorsed by scientific studies to conform to the highest safety standards. Mesogenics is trusted in more than 60 countries due to its highly effective products and 30+ years of experience in the cosmetic industry.
SKU: 10000-1