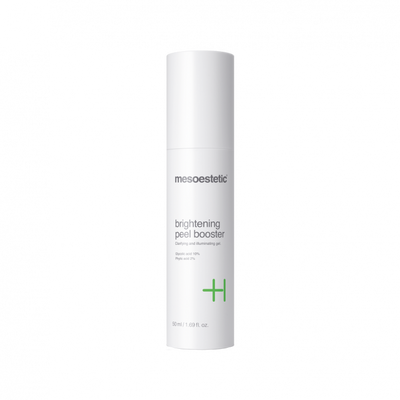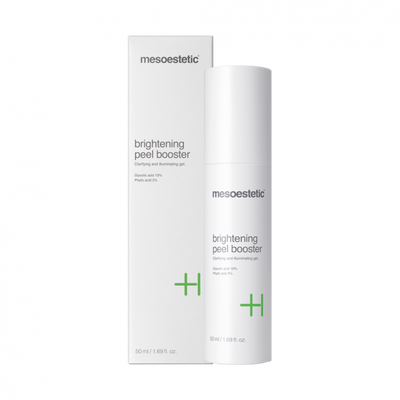 mesoestetic | brightening peel booster | 50 ml
Mesoestetic
$139.00
Non-oily, renewing and clarifying gel based on a synergic combination of glycolic acid and phytic acid. Glycolic acid has effective exfoliating and regenerating properties which produce mild flaking, reducing the stratum corneum and boosting the antioxidant and depigmenting effects of the phytic acid. Reduces melanogenic activity for a more even pigmentation.
brightening peel booster significantly improves the skin's ability to retain moisture and reactivate cell renewal while reducing pigment based lesions and blemishes. Pores are visibly smaller and dyschromia fades, leaving the skin lighter and glowing, with an even tone.
Active ingredients
Phytic acid
Glycolic acid
once a day, evening.
Apply at night to clean, dry skin on the face, neck and neckline, avoiding the eye contour. A slight tingling sensation may occur during application. Do not apply to wounds and/or irritated skin.
About Mesoestetic
Mesoestetic has an international reputation in the field of cosmetic medicine and is recognised as one of the world's leading pharmaceutical laboratories for its depigmentation treatments (Cosmelan/Dermamelan). Mesoestetic also manufactures homecare products containing maximum concentrations of active ingredients and advanced anti-ageing treatments. All Mesoestetic products and treatments have been rigorously tested and endorsed by scientific studies to conform to the highest safety standards. Mesogenics is trusted in more than 60 countries due to its highly effective products and 30+ years of experience in the cosmetic industry.
SKU: 10000-4