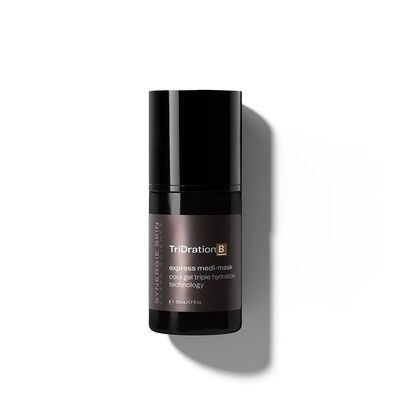 Synergie Skin | TriDration B | 50 ml
Synergie Skin
$115.00
An advanced cooling gel mask to intensely hydrate and nourish the skin on 3 levels with humectants (water magnets), water balancers and dermally-active hyaluronic acid stimulators.
This 5 minute express mask offers on-the-go results to leave the skin plump and hydrated from within, while restoring a youthful dewy glow.
With added skin brightening, antioxidants and redness-reducing benefits, this mask is sure to boost the health of every skin type and condition.

Key Benefits
Niacinamide 11%:
Boosts the production of the skin's natural protective oils (ceramides) in the top layers of the skin to fortify the barrier, promote hydration and leave the skin repaired, restored and dewy. It also assists in regulating oil flow, minimising redness, increasing collagen, improving skin immunity, and reducing the appearance of hyperpigmentation.
Saccharide isomerate (marine-derived):
Enhances internal hydration to all areas of the face, including the delicate eye area, to reduce the appearance of lines and wrinkles. Unlike hyaluronic acid which cannot reach the dermis, this ingredient stimulates the skin to make its own natural hyaluronic acid in the dermis to plump and hydrate from deep within.
Sodium PCA:
A powerful skin hydrator, sodium PCA is naturally occurring in human skin and declines with age. It is known as a humectant and works to attract and bind water like a magnet into the skin.
Sodium lactate:
A naturally derived hydrating agent able to increase the natural water levels of the skin.
Hyaluronic acid (sodium hyaluronate):
A natural moisturising factor found in the deeper skin layers. Hyaluronic acid is an intense water magnet and is referred to as the 'natural super moisturiser' as it can hold 1000 times its weight in water. Applied topically, it will plump and hydrate the epidermal skin cells by constantly attracting moisture to the skin surface.
Betaine:
Acts like a humectant and can also act to control and maintain water balance in the skin. It counteracts skin irritants and assists in reducing skin irritation.
Hydrolysed tomato skin (lycopene):
A potent antioxidant to neutralise skin-damaging free radical, help protect the skin from cell damage, destructive solar radiation, and environmental aggressors.

Application
Apply one pump to face and neck twice weekly after cleansing. Allow mask to absorb for 5 minutes and rinse off with the Gentle X-fol Cloth and tepid water, then follow with your tonics and serums.
Use every second day for two weeks as an intensive hydration treatment for dehydrated skin.
For an invigorating mask, refrigerate for 30 minutes prior to use. Do not leave in the refrigerator to store.

Full Ingredient List
AQUA (PURIFIED AUSTRALIAN RAIN WATER), NIACINAMIDE, GLYCERIN, ISOAMYL LAURATE, BETAINE, METHYLPROPANEDIOL, BUTYROSPERMUM PARKII (SHEA) OIL, SODIUM LACTATE, HYDROLYZED TOMATO SKIN, PANTHENOL (VITAMIN B5), SODIUM PCA , CAPRYLYL GLYCOL, SODIUM HYALURONATE, ALOE BARBADENSIS (ALOE VERA) LEAF JUICE, ACRYLATES/C10-30 ALKYL ACRYLATE CROSSPOLYMER, PROPANEDIOL, CARBOMER, PHENYLPROPANOL, CITRIC ACID, DISODIUM PHOSPHATE, XANTHAN GUM, SODIUM PHOSPHATE, SACCHARIDE ISOMERATE, GLYCERYL CAPRYLATE, SODIUM BENZOATE, POTASSIUM SORBATE, AMINOMETHYL PROPANOL
About Synergie Skin
Synergie Skin is widely regarded by cosmetic medical practitioners and skin clinicians as a leading cosmeceutical range. Founded in 2005, and now an internationally recognised company,Synergie Skin is an innovative Australian cosmeceutical company committed to creating highly active skincare. Synergie offers both highly active cosmeceutical products and a medical only range, Synergie Practitioner, which formulas contain higher dosages of active ingredients and additional potent active ingredients. This range offers clients a step up from the Synergie Skin range and is exclusive to medically-affiliated practices.
SKU: 10000-50