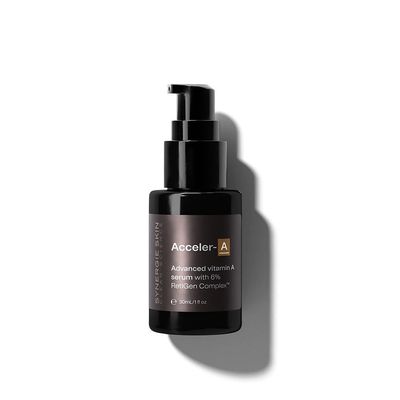 Synergie Skin | Acceler-A | 30 ml
Synergie Skin
$169.00
Benefits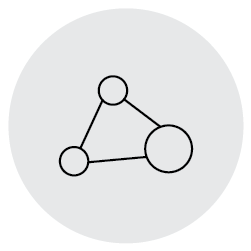 6% advanced vitamin A RetiGen Complex™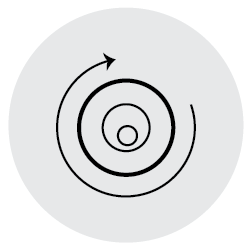 Regulates cell turnover for smoother, brighter skin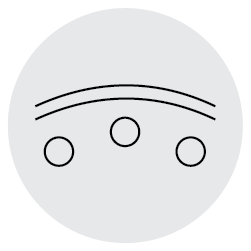 Reduces fine lines and wrinkles by promoting collagen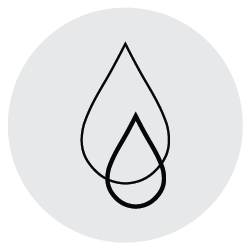 Controls oil, blemishes and acne breakouts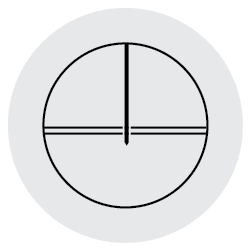 For optimal penetration, use with Synergie Skin Home Roller
Description
An active, non-irritating and stable vitamin A serum containing the hero retinoid, hydroxypinacolone retinoate (HPR) as the key ingredient of our trademarked blend. This evening serum promotes healthy skin renewal, reverses visible signs of ageing, and clarifies pores for smoother, clearer and brighter skin.
Synergie Skin's Vitamin A suite also includes the following formulations:
• Ultimate A (Stabilised Retinol, moderate potency, low Irritation profile). This is the recommended Vitamin A serum for new users and those with sensitive skin.
• Acceler-A (Hydroxy-pinacolone retinoate, high potency, moderate irritation profile).
• A+ Hydroxy-pinacolone retinoate, high potency, high potency, moderate irritation profile). This product is not available online and is exclusively prescribed by Synergie Practitioners.
An advanced vitamin A serum for a rejuvenated, firm and clear complexion
Benefits

6% advanced vitamin A RetiGen Complex™
Regulates cell turnover for smoother, brighter skin
Reduces fine lines and wrinkles by promoting collagen
Controls oil, blemishes and acne breakouts
For optimal penetration, use with Synergie Skin Home Roller
Hydroypinacolone retinoate (HPR)
This next generation vitamin A ingredient requires no metabolic conversion by the target cell in order to exert its numerous beneficial effects. It is the fastest acting and most potent form of vitamin A, next only to prescription retinoic acid. Clinical studies demonstrates that HPR visibly reduces the appearance of lines and wrinkles in as little as 14 days while also brightening uneven skin tone, clearing, firming and plumping the skin, reducing visible pores and normalising excess oil production.
Coenzyme Q10
Found in every cell and tissue within the human body, Coenzyme Q10 is involved in numerous biological functions including energy production and stablising free radicals. Its levels decrease with age, resulting in a reduced ability to produce collagen and elastin. Topically applied, this ingredient assists in reversing and preventing the visible signs of ageing.
Green tea
A potent antioxidant that neutralises free radicals and prevents oxidative stress. Green tea is rich in polyphenols and epigallocatechin gallate (EGCG: the most abundant type of catechin, a plat micronutrient packed with natural antioxidants), which inhibit elastase and MMPs, responsible for the breakdown of collagen and elastin. Green tea also inhibits the production of tyrosinase, one of the key enzymes involved in pigment production, thereby resulting in a birghter and more even complexion.
Additional ingredients
This formula contains dimethyl isosorbide (DMI) to enahnce the delivery of active ingredients into the skin.
Full ingredient list
AQUA (PURIFIED AUSTRALIAN RAIN WATER), GLYCERIN, ISOAMYL LAURATE, DIMETHYL ISOSORBIDE, METHYLPROPANEDIOL, TOCOPHEROL (VITAMIN E), CAPRYLYL GLYCOL, ACRYLATES/C10-30 ALKYLACRYLATE CROSSPOLYMER, HYDROXYPINACOLONE RETINOATE, CAMELLIA SINENSIS (GREEN TEA) LEAF EXTRACT, UBIQUINONE, ROSMARINUS OFFICINALIS (ROSEMARY) LEAF OIL, PHENYLPROPANOL, GLYCINE SOJA (SOYBEAN) OIL, SODIUM PHYTATE, 1,2-HEXANEDIOL, HYDROXYACETOPHENONE, ALCOHOL (GRAIN DERIVED), SODIUM HYDROXIDE, D-LIMONENE, LINALOOL.
As part of our commitment to innovation, Synergie formulations are updated from time to time. Always refer to the ingredient list on the box for the most current version.
Acceler-A 30mL bottle Acceler-A Advanced Vitamin A serum with 6% RetiGen complex texture shot
Directions
Apply one pump over the face and neck.
Always apply Acceler-A sparingly and monitor tolerance. Start by using Ultimate A and advance to Acceler-A after 3 to 6 months, alternating every evening over a 4 week period to gradually acclimatise to Acceler-A.
About Synergie Skin
Synergie Skin is widely regarded by cosmetic medical practitioners and skin clinicians as a leading cosmeceutical range. Founded in 2005, and now an internationally recognised company,Synergie Skin is an innovative Australian cosmeceutical company committed to creating highly active skincare. Synergie offers both highly active cosmeceutical products and a medical only range, Synergie Practitioner, which formulas contain higher dosages of active ingredients and additional potent active ingredients. This range offers clients a step up from the Synergie Skin range and is exclusive to medically-affiliated practices.
SKU: 10000-53