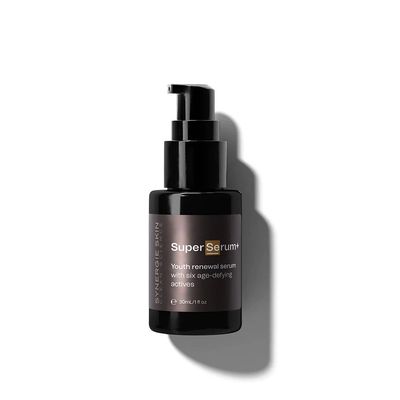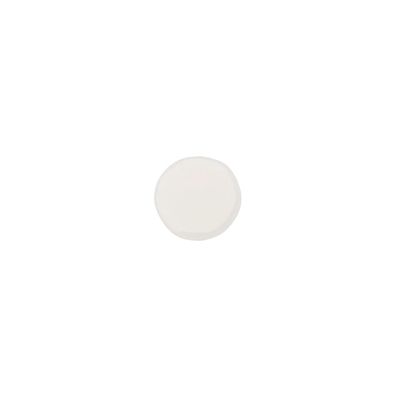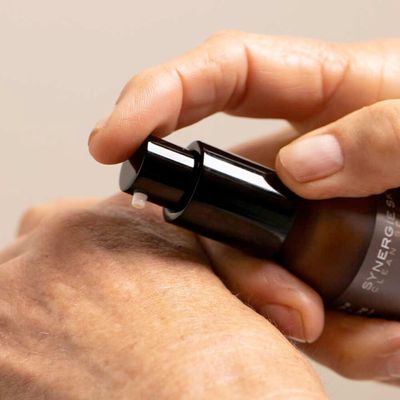 Synergie Skin | SuperSerum+ | 30 ml
Synergie Skin
$189.00
Out of stock
A youth renewal serum with six age-defying actives
Benefits

6 cutting edge anti-ageing ingredients
Mimics the benefits of muscle relaxants
Triggers the skin to produce its own collagen and hyaluronic acid
Stimulates epidermal stem cells and growth factors
Prolongs cosmetic injectable results
Description
A potent serum with six hero peptides, antioxidants and marine biomimetic ingredients to address signs of ageing. This cutting-edge serum mimics the visible effects of muscle relaxants, reduces the appearance of fine lines, and increases firmness to restore a smooth, plump and youthful complexion.
Acetyl hexapeptide-51 amide
A cutting edge peptide complex that mimics the natural human genetic factor (Fox-03a) able to reverse cell ageing and repair genetic damage.
Marjoram extract
An epigenetically active botanical that awakens fibroblasts by protecting them from harmful epigenetic modifications, stimulating their vitality and ability to make collagen. Epigenetic modifications can be caused by UV and other negative environmental and metabolic actions, both internal and external.
Hydrolysed algin
Rebuilds the epidermis via stem cell activation and stimulates the activity of epidermal stem cells (basal cells) to rapidly restore and reconstruct skin tissue.
Saccharide isomerate (marine derived)
Boosts the synthesis of the skin's own hyaluronic acid and increases the skin's volume and internal hydration.
Acetyl octapeptide-3
A muscle relaxant that helps to reduce expression wrinkles (crow's feet and frown lines) in a similar fashion to Botox. It also helps to give anti-wrinkle injectables more longevity.
Lycopene (hydrolysed tomato skin)
Potent, topical antioxidant essential for protecting skin against environmental damage and ageing.
Full ingredient list
AQUA (PURIFIED AUSTRALIAN RAINWATER), GLYCERIN, METHYLPROPANEDIOL, HYDROLYZED TOMATO SKIN, BETAINE, BUTYLENE GLYCOL, SODIUM PCA, CAPRYLYL GLYCOL, HYDROLYZED ALGIN, ALOE BARBADENSIS (ALOE VERA) LEAF JUICE, SODIUM HYALURONATE, MALTODEXTRIN, PHOSPHOLIPIDS, SACCHARIDE ISOMERATE, ACETYL OCTAPEPTIDE-3, ACETYL HEXAPEPTIDE-51 AMIDE, XANTHAN GUM, PROPANEDIOL, POLYSORBATE 80, CITRUS AURANTIUM (NEROLI) FLOWER OIL, ORIGANUM MAJORANA (MARJORAM) LEAF EXTRACT, PHENYLPROPANOL, CITRIC ACID, DISODIUM PHOSPHATE, SODIUM PHOSPHATE, ALCOHOL (GRAIN DERIVED), GLYCERYL CAPRYLATE, POTASSIUM SORBATE, SODIUM BENZOATE, SODIUM HYDROXIDE, D-LIMONENE, GERANIOL, LINALOOL.
As part of our commitment to innovation, Synergie formulations are updated from time to time. Always refer to the ingredient list on the box for the most current version.
SuperSerum+ Epigenetically active age-defying serum delivering a concentration of peptides, marine extracts and botanical actives to target premature ageing Superserum anti-ageing serum texture
Directions
Apply one pump over face and neck. Follow with solar protection in the morning.
About Synergie Skin
Synergie Skin is widely regarded by cosmetic medical practitioners and skin clinicians as a leading cosmeceutical range. Founded in 2005, and now an internationally recognised company,Synergie Skin is an innovative Australian cosmeceutical company committed to creating highly active skincare. Synergie offers both highly active cosmeceutical products and a medical only range, Synergie Practitioner, which formulas contain higher dosages of active ingredients and additional potent active ingredients. This range offers clients a step up from the Synergie Skin range and is exclusive to medically-affiliated practices.
SKU: 10000-55