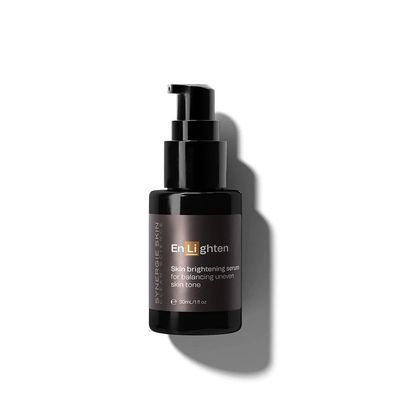 Synergie Skin | EnLighten | 30 ml
Synergie Skin
$169.00
Skin brightening serum for a radiant & even skin tone.
This cutting-edge skin brightening serum is designed to improve the appearance of uneven skin tone, to enhance skin clarity and luminosity.

Key Benefits
• A topical treatment for most forms of hyperpigmentation and sun damage
• A potent complex of tyrosinase inhibitors and natural skin brighteners reduces the activity of cells that produce melanin
• Minimises the risk of post inflammatory hyperpigmentation
• Recommended for daily use 2 weeks prior to commencing IPL/Laser/Peels
Liquorice Extract
A powerful botanical anti-inflammatory. This highly absorptive ingredient significantly improves uneven skin tone and discolouration whilst reducing redness and inhibiting excess release of excess oil from the sebaceous gland.
Oligopeptide-34
Innovative new peptide that works on multiple pathways. The result is significant reduction of pigmented lesions and overall skin brightening.
1. decreases melanin synthesis
2. reduces tyrosinase activity
3. reduces the transfer of melanosomes to the keratinocytes
Niacinamide
Boosts skin immunity and increases the production of the skin's natural ceramides in the stratum corneum to fortify barrier and promote hydration. Assists in regulating oil flow, minimising inflammation, increasing collagen and reducing the appearance of hyperpigmentation.
Application
For overall brightening, apply one pump over face and neck. For targeting pigmentation, apply sparingly to affected areas only.
Ensure broad spectrum sun protection (ÜberZinc or Synergie Minerals foundation) is applied after the serum to help prevent from sun damage and further darkening of hyperpigmentation.
Full Ingredient List
WATER (AQUA), GLYCERIN, NIACINAMIDE, METHYLPROPANEDIOL, POLYSORBATE 80, DIPOTASSIUM GLYCYRRHIZATE, CAPRYLYL GLYCOL, XANTHAN GUM, MENTHA VIRIDIS (SPEARMINT) LEAF OIL, POTASSIUM SORBATE, PHOSPHOLIPIDS, ALCOHOL (GRAIN DERIVED), PHENYLPROPANOL, GLYCINE SOJA (SOYBEAN) OIL, SODIUM OLEATE, HYDROGENATED LECITHIN, OLIGOPEPTIDE-34, SODIUM HYDROXIDE, D-LIMONENE.
About Synergie Skin
Synergie Skin is widely regarded by cosmetic medical practitioners and skin clinicians as a leading cosmeceutical range. Founded in 2005, and now an internationally recognised company,Synergie Skin is an innovative Australian cosmeceutical company committed to creating highly active skincare. Synergie offers both highly active cosmeceutical products and a medical only range, Synergie Practitioner, which formulas contain higher dosages of active ingredients and additional potent active ingredients. This range offers clients a step up from the Synergie Skin range and is exclusive to medically-affiliated practices.
SKU: 10000-56