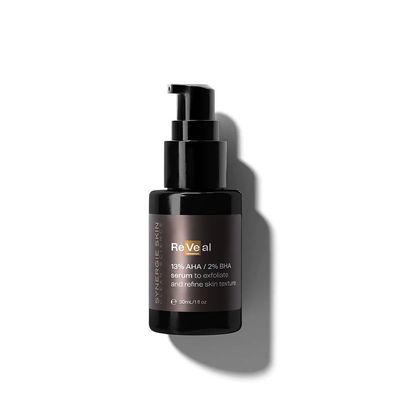 Synergie Skin | ReVeal | 30 ml
Synergie Skin
$139.00
13% AHA / 2% BHA exfoliating serum that improves texture, tone, and hydration.
An advanced, alcohol-free exfoliation serum designed to gently remove dead cell build up and clogged pores. A blend of 13% AHA / 2% BHA active ingredients (salicylic acid, mandelic acid, lactic acid, and malic acid) work to improve skin texture, luminosity, and hydration for optimal skin health.
Formulated to:
Improves skin surface texture

Removes dead surface cells

Reduces clogged pores

Reduces the appearance of skin discolouration and uneven skin tone

Decongests skin and improve the appearance of acne

Enhances the penetration of other active ingredients in your skin routine (Vitamin A, B and C etc.)

Gentle, alcohol-free formula
Key Benefits
Lactic Acid (AHA)
A natural and biocompatible AHA exfoliant for effective removal of surface epidermal dead skin cells. Brightens and hydrates dull skin and minimises the appearance of fine lines.
Salicylic Acid (BHA)
Salicylic acid is a botanically derived beta hydroxy acid (BHA). It is excellent for acne sufferers as it is able to draw out and remove dead cells and debris trapped within congested pores. It is also able to reduce skin irritation and visible redness at low doses.
Mandelic Acid (AHA)
An intelligent alpha hydroxy acid (AHA) able to selectively target areas of concern. Extracted from bitter almonds, this multitasking ingredient effectively addresses a range of conditions including hyperpigmentation, excess oil and ageing. Mandelic acid also helps to support collagen to reduce fine lines. Mandelic acid has been shown to reduce hyperpigmentation by as much as 50% in four weeks resulting in a more evenly toned complexion.
Malic Acid (AHA)
An AHA exfoliant, skin brightener and humectant which has hydrating properties. It is excellent for acne, congestion, fine lines, dehydration and uneven skin tone. It is an ideal adjunct to other AHA/BHA blends to support skin health and renewal. Malic acid is also known to deliver antioxidant benefits to reduce environmental skin damage.
Dimethyl Isosorbide (DMI)
DMI increases the stability, bioavailability and delivery of active ingredients in aqueous formulations. It enhances the effectiveness of lactic, salicylic and malic acid on the skin.
Sodium PCA
A powerful skin hydrator that is naturally occurring in human skin but declines with age. It is known as a humectant and works to bind water molecules to the skin. Sodium PCA has also been shown to protect the natural acid mantle of the skin and protect from inflammation and imbalance.
Application
Apply three times weekly for general exfoliation, or daily for moderate acne. May also be combined with Pure-C crystals (1:4 ratio of Pure C : ReVeal) as a home 'minipeel' for more robust skin.
It is recommended that you apply Überzinc or Synergie Minerals foundation as your UV protection following ReVeal.
Do not mix with Vitamin A and B serums.
Full Ingredient List
WATER (AQUA), DIMETHYL ISOSORBIDE, LACTIC ACID, GLYCERIN, MANDELIC ACID, SALICYLIC ACID, MALIC ACID, SODIUM PCA, ALOE BARBADENSIS (ALOE VERA) LEAF JUICE, XANTHAN GUM , SODIUM HYDROXIDE.
About Synergie Skin
Synergie Skin is widely regarded by cosmetic medical practitioners and skin clinicians as a leading cosmeceutical range. Founded in 2005, and now an internationally recognised company,Synergie Skin is an innovative Australian cosmeceutical company committed to creating highly active skincare. Synergie offers both highly active cosmeceutical products and a medical only range, Synergie Practitioner, which formulas contain higher dosages of active ingredients and additional potent active ingredients. This range offers clients a step up from the Synergie Skin range and is exclusive to medically-affiliated practices.
SKU: 10000-70