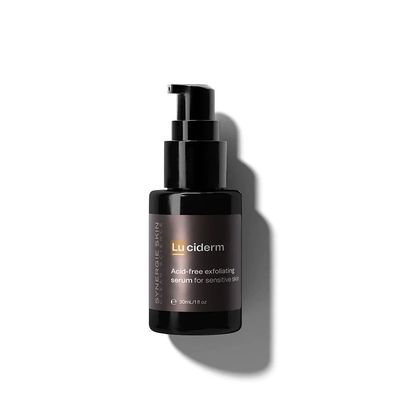 Synergie Skin | Luciderm | 30 ml
Synergie Skin
$139.00
Acid-free exfoliating serum for sensitive skin.
A revolutionary acid-free chemical exfoliant ideal for even the most sensitive skin. Luciderm enhances the skin's natural enzyme activity to exfoliate and eliminate rough, flaking skin. A gentle and effective product for revealing smoother and brighter skin.
This product is 100% acid-free and is ideal for everyday use for even the most sensitive skin. For the first time, rosacea and eczema sufferers can use an exfoliant without any side effects.
Key Benefits
Yeast Extract (bio-fermented), Soy Amino Acid – helps to eliminate old, flaky skin, efficiently stimulating cell turnover and cell renewal. Unlike AHA's, its gentle mechanism of action and safety profile make this ingredient ideal as an exfoliant and anti-ageing product for even the most sensitive skin.
Hydrolysed tomato skin (Lycopene) – a new antioxidant derived from hydrolyzed tomato skin. It is more powerful than green tea in its ability to neutralize free radical damage, which leads to ageing, and cell destruction.
Application
Apply once a day, AM or PM, prior to moisturising. As it is 100% acid free, the Luciderm is compatible with Ultimate A serum and Vitamin B serum.
Full Ingredient List
WATER (AQUA), GLYCERIN, HYDROLYZED TOMATO SKIN, BETAINE, METHYLPROPANEDIOL, SACCHAROMYCES FERMENT FILTRATE, 1,2-HEXANEDIOL, CAPRYLYL GLYCOL, POTASSIUM SORBATE, PHENYLPROPANOL, HYDROXYACETOPHENONE, HYDROXYETHYL CELLULOSE, CITRIC ACID, SODIUM HYDROXIDE, SODIUM BENZOATE.
About Synergie Skin
Synergie Skin is widely regarded by cosmetic medical practitioners and skin clinicians as a leading cosmeceutical range. Founded in 2005, and now an internationally recognised company,Synergie Skin is an innovative Australian cosmeceutical company committed to creating highly active skincare. Synergie offers both highly active cosmeceutical products and a medical only range, Synergie Practitioner, which formulas contain higher dosages of active ingredients and additional potent active ingredients. This range offers clients a step up from the Synergie Skin range and is exclusive to medically-affiliated practices.
SKU: 10000-72