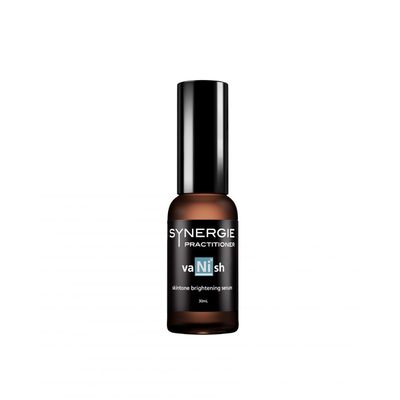 Synergie Skin | VaNish | 30 ml
Synergie Skin
$189.00
This product is exclusive to medically affiliated practices. Available in clinic only after skin consultation.
Skin brightening serum for radiance and even skin tone.
Vanish contains patented peptide technology and clinically proven ingredients designed to reduce the appearance of uneven pigmentation and sun damage.
Skin colour is determined primarily by the amount, distribution and type of melanin produced by the melanocyte. Specific enzymes control the production of skin pigments. The first step of this melanogenesis is mediated by the enzyme tyrosinase which increases melanin synthesis. Following this, the transfer of melanin from the melanocyte to the keratinocyte is needed to express the pigmentation. To effectively address pigmentation a multi-level approach is needed.
Key Benefits
Oligopeptide-34: This liposome encapsulated peptide molecule is designed to significantly reduce the appearance of hyperpigmentation and skin discolouration on multiple pathways via:
• Reduction of melanin synthesis
• Inhibition of melanin transfer to the outer cells
• Reduction of cellular inflammation (the underlying cause of skin disorders)
Liquorice Extract
A powerful botanical anti-inflammatory. This highly absorptive ingredient significantly improves uneven skin tone and discolouration whilst reducing redness and inhibiting excess release of excess oil from the sebaceous gland.
Application
Apply sparingly to affected areas in the morning or evening, prior to moisturising. Apply twice daily 2 weeks prior to facial IPL, laser or any clinical treatments.
Ensure broad spectrum sun protection (Überzinc or Synergie Minerals foundation) is applied after the serum to help prevent from sun damage and further darkening of hyperpigmentation.
Full Ingredient List
WATER (AQUA), GLYCERIN, NIACINAMIDE, METHYLPROPANEDIOL, POLYSORBATE 80, DIPOTASSIUM GLYCYRRHIZINATE, CAPRYLYL GLYCOL, XANTHAN GUM, CYMBOPOGON MARTINI (PALMAROSA) OIL, PHOSPHOLIPIDS, ALCOHOL (GRAIN DERIVED), PHENYLPROPANOL, PLANKTON EXTRACT, GLYCINE SOJA (SOYBEAN) OIL, SODIUM OLEATE, HYDROGENATED LECITHIN, OLIGOPEPTIDE-34, SODIUM HYDROXIDE, GERANIOL, LINALOOL, D-LIMONENE, CITRAL, FARNESOL.
About Synergie Skin
Synergie Skin is widely regarded by cosmetic medical practitioners and skin clinicians as a leading cosmeceutical range. Founded in 2005, and now an internationally recognised company,Synergie Skin is an innovative Australian cosmeceutical company committed to creating highly active skincare. Synergie offers both highly active cosmeceutical products and a medical only range, Synergie Practitioner, which formulas contain higher dosages of active ingredients and additional potent active ingredients. This range offers clients a step up from the Synergie Skin range and is exclusive to medically-affiliated practices.
SKU: 10000-77