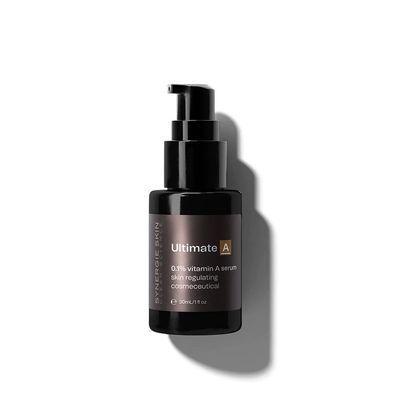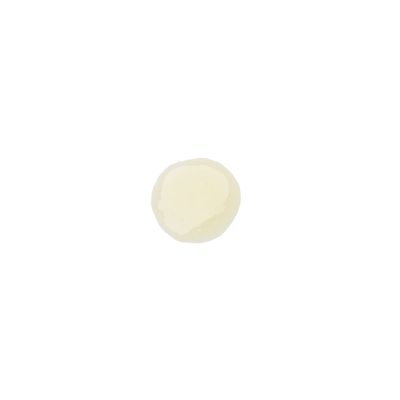 Synergie Skin | Ultimate A | 30 ml
Synergie Skin
$139.00
An essential vitamin A serum for skin regulation
Benefits

Stable, non-irritating form of vitamin A
Smoothes skin texture by regulating cell renewal
Evens skin tone and reverses sun damage
Reduces breakouts and congestion by regulating oil flow
Stimulates collagen to reduce fine lines and wrinkles
Description
As your ultimate skin regulator, this vitamin A serum promotes healthy skin renewal, balances oil flow, and addresses visible lines and uneven skin tone. Fortified with liposomally encapsulated retinol, this gentle yet effective serum is ideal for rejuvenating even the most sensitive skin. This is your must-have daily essential for clear, balanced and youthful looking skin.
Synergie Skin's Vitamin A suite also includes the following formulations:
• Ultimate A (Stabilised Retinol, moderate potency, low Irritation profile). This is the recommended Vitamin A serum for new users and those with sensitive skin.
• Acceler-A (Hydroxy-pinacolone retinoate, high potency, moderate irritation profile).
• A+ Hydroxy-pinacolone retinoate, high potency, high potency, moderate irritation profile). This product is not available online and is exclusively prescribed by Synergie Practitioners.
Stabilised retinol
Restores dermal thickness by normalising and regulating cell turnover from the basal cell. This leads to an improved barrier via compact stratum corneumn and more youthful epidermis. Protects skin from UV damage and reduces fine lines through collagen stimulation. It regulates oil levels and aids in the management of acne. Retinoic acid binds to the oil gland receptors to normalise the growth of cells that produce oil (sebocytes) in turn reducing oil gland secretion and oil gland size. Retinal reduces skin hyperpigmentation as it inhibits tyrosinase, which reduces the amount of melanin produced, reduces melanocyte size, melanin clumping, and the action of increased cell turnover reduces pigmented cells from skin surface.
Witch hazel
An excellent natural astringent that reduces inflammation while hydrating and sanitising the skin.
Full ingredient list
AQUA (PURE AUSTRALIAN RAIN WATER), HAMAMELIS VIRGINIANA (WITCH HAZEL) TWIG EXTRACT, ALCOHOL (GRAIN DERIVED), POLYSORBATE 85, GLYCERIN, METHYLPROPANEDIOL, BETAINE, SODIUM PCA, PENTYLENE GLYCOL, LECITHIN, CAPRYLYL GLYCOL, CARBOMER, POLYSORBATE 80, PELARGONIUM CAPITATUM (ROSE GERANIUM) LEAF EXTRACT, HYDROLYZED WHEAT PROTEIN, RETINOL, POLYSORBATE 20, PHENYLPROPANOL, PHOSPHOLIPIDS, POTASSIUM PHOSPHATE, SODIUM BENZOATE, SODIUM HYDROXIDE, GERANIOL, CITRONELLOL, LINALOOL.
As part of our commitment to innovation, Synergie formulations are updated from time to time. Always refer to the ingredient list on the box for the most current version.
Directions
Apply one pump over the face and neck. Always apply sparingly and monitor tolerance.
About Synergie Skin
Synergie Skin is widely regarded by cosmetic medical practitioners and skin clinicians as a leading cosmeceutical range. Founded in 2005, and now an internationally recognised company,Synergie Skin is an innovative Australian cosmeceutical company committed to creating highly active skincare. Synergie offers both highly active cosmeceutical products and a medical only range, Synergie Practitioner, which formulas contain higher dosages of active ingredients and additional potent active ingredients. This range offers clients a step up from the Synergie Skin range and is exclusive to medically-affiliated practices.
SKU: 10000-53-1