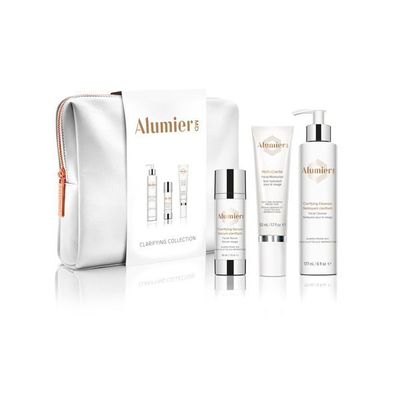 Clarifying Collection
Alumier MD
$309.00
This set features three carefully curated, essential home care products to support oily and blemish-prone skin. They are housed together in a plush, white vegan leather cosmetic bag.
Skin types
Combination Skin | Oily Skin
The key to a beautiful complexion is your skincare professional who knows and understands the skin in depth, and can customize your AlumierMD experience. No more guess work, get a routine that is tailored to your skin's specific needs, and see real results sooner than you think!
Dye Free
Paraben Free
Sulfate Free
Phthalate Free
Animal Cruelty Free
Artificial Fragrance Free
Chemical Sunscreen Filter Free
This collection contains one of each:
Clarifying Cleanser
177 mL / 6 fl oz e
A gentle yet highly effective pH balanced cleanser designed for blemish-prone skin.
Balancing Serum
30 mL / 1 fl oz e
A highly effective, lightweight serum designed for blemish-prone skin that penetrates pores for a clearer complexion.
HydraClarité
50 mL / 1.7 fl oz e
An ultra-light, non-comedogenic antioxidant-rich moisturiser formulated for oily and blemish-prone skin, which absorbs quickly and effectively leaving no residue.
SKU: 10000-24-1-1-1-1-1-3