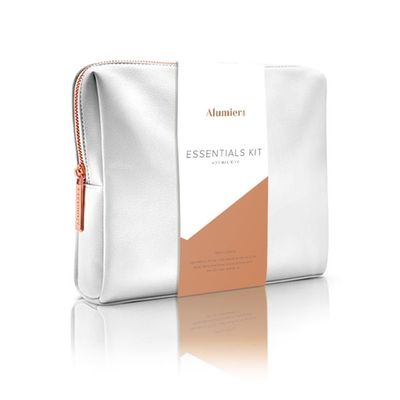 Essentials Kit - Oily Skin
Alumier MD
$326.00
For glowing, healthy skin you need to start with the essentials.
Skin types
Combination Skin | Oily Skin

The key to a beautiful complexion is your skincare professional who knows and understands the skin in depth, and can customize your AlumierMD experience. No more guess work, get a routine that is tailored to your skin's specific needs, and see real results sooner than you think!
Dye Free
Paraben Free
Sulfate Free
Phthalate Free
Animal Cruelty Free
Artificial Fragrance Free
Chemical Sunscreen Filter Free
For glowing, healthy skin you need to start with cleansing, hydrating and sun protection essentials. Products are housed together in a white vegan leather cosmetic bag. Designed for Normal/Dry skin types.
This kit includes:
Purifying Gel Cleanser
177 mL / 6 fl oz
A refreshing pH balanced foaming gel cleanser.
Clear Shield Broad Spectrum SPF 40
60 mL / 2 fl oz
A lightweight, non-comedogenic, 100% physical broad-spectrum facial sunscreen.
Ultimate Boost Serum
30 mL / 1 fl oz
A lightweight, hydrating serum that combines moisturising and anti-ageing ingredients to reduce the visible signs of ageing.
HydraLight Sample Sachets
2 x 2 mL
A light hydrating lotion loaded with powerful peptides, antioxidants and soothing ingredients.
HydraClarité Sample Sachets
2 x 2 mL
An ultra-light, non-comedogenic antioxidant-rich moisturiser formulated for oily and blemish-prone skin, which absorbs quickly and effectively leaving no residue.
SKU: 10000-24-1-1-1-1-1-2-1-1-1-1-1