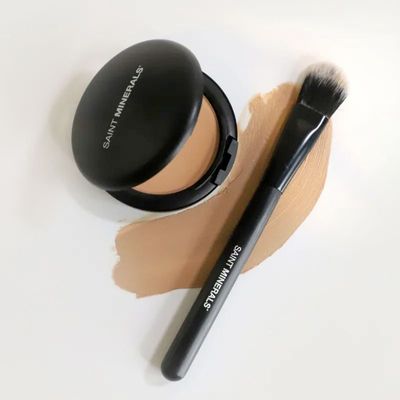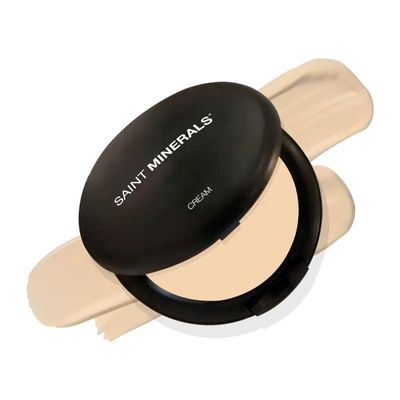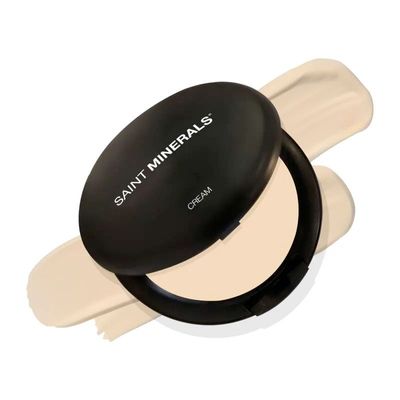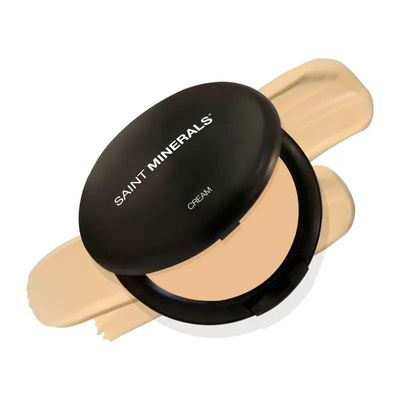 Saint Minerals Cream Mineral Foundation
Saint Minerals
$89.00
The Saint Minerals® Cream Mineral Foundation offers a 'CREAM-2-POWDER' finish.
This Cream Mineral Foundation helps to hydrate + protect with controlled, buildable coverage. Suitable for all skin types, including dry/dehydrated skin types.
The Saint Minerals® Cream Mineral Foundation offers UVA+B protection, + is convenient for quick touch-ups.
Size: 15g
Experience the luxurious radiance of Saint Minerals® Cream Mineral Foundation, a true masterpiece in the realm of makeup. With its unique "Cream-2-Powder" finish, this foundation combines the best of both worlds, delivering a flawless, velvety matte look while nourishing + hydrating dry/dehydrated skin types.
Indulge in the sublime texture of our Saint Minerals® Cream Mineral Foundation as it effortlessly glides onto your skin, providing a seamless + natural-looking finish. Its velvety cream formula melts into your complexion, imparting a luminous radiance that lasts throughout the day. With controlled and buildable coverage, you have the power to customise your desired level of perfection.
Experience the peace of mind that comes with Saint Minerals® Cream Mineral Foundation. It not only enhances your natural beauty but also provides reliable UVA+B protection, safeguarding your skin from the harmful effects of the sun's rays. Embrace the confidence that comes from knowing your foundation is a shield against environmental stressors.
Embrace the convenience + ease of touch-ups with Saint Minerals® Cream Mineral Foundation. Its compact and portable design makes it the perfect on-the-go companion for quick touch-ups throughout the day. Enjoy the freedom of maintaining a flawless complexion wherever you are, whenever you desire.
This exceptional cream foundation nourishes + hydrates your skin while offering controlled coverage. Say goodbye to dryness + welcome a foundation that cares for your skin's well-being. Experience the transformation as it flawlessly hides imperfections, leaving you with a radiant + refreshed complexion.
Elevate your makeup routine with Saint Minerals® Cream Mineral Foundation – a fusion of beauty and skincare. Revel in the luminous "Cream-2-Powder" finish, the comfort of hydration, + the reliable protection it provides. Unleash your inner glow while enjoying the convenience + versatility of a foundation that adapts to your lifestyle.
SHADES
Shade 01 – Fair, ivory skin with warm undertones. Easily burns.
Shade 02 – Fair skin with a slightly cool undertones, excellent to neutralise + soothe redness from rosacea, acne, + inflammation.
Shade 03 – #1 seller, light to medium skin tones with neutral undertones. May burn, gradually tans.
Shade 04 – Medium/tan skin with neutral undertones. This skin type generally tans from the sun.
** Each shade number within the Saint Minerals foundation collection is uniquely distinct, except for an exciting revelation: the shade numbers for loose + liquid variants perfectly align, just as the shade numbers for Cream Compact + Pressed Compact harmoniously match.
INSTRUCTIONS
Step-by-Step Instructions for Applying Saint Minerals® Cream Mineral Foundation:
Prep your skin: Start with a clean, moisturised face. Ensure your skin is free from dirt, excess oil, + any previous makeup. This step is essential to create a smooth canvas for your foundation.
Choose the right tool: Use a Saint Minerals® Foundation Brush, the sponge provided, to apply the cream mineral foundation. Select a tool that you feel most comfortable + confident using.
Apply directly onto the tool you're using. Remember, a little goes a long way, + you can always add more if needed.
Blend outward: Using your chosen tool, begin blending the foundation into your skin using gentle, upward strokes. Start from the centre of your face + work your way outward, ensuring seamless blending along your hairline + jawline.
Focus on problem areas: Pay extra attention to areas that require more coverage, such as redness, blemishes, or dark spots. Use a dabbing or stippling motion to build up coverage in those areas while maintaining a natural look.
Check for any touch-ups: Take a moment to assess your overall complexion + make any necessary touch-ups or adjustments.
INGREDIENTS
Caprylic/Capric Triglyceride, Hydrogenated Polyisobutene, Corn Starch Modified, Simmondsia Chinensis (Jojoba) Seed Oil*, Kaolin, Euphorbia Cerifera (Candelilla) Wax, Copernicia Cerifera (Carnauba) Wax, Butyrospermum Parkii (Shea Butter) Fruit*, Polyglyceryl-4 Oleate, Caprylhydroxamic Acid (and) Caprylyl Glycol (and) Glycerin, Tocopherol, may contain (+/-) Mica (CI 77019), Zinc Oxide (CI 77947), Titanium Dioxide (CI 77891), Iron Oxides (CI 77491, CI 77492, CI 77499), Ultramarines (CI 77007), Tin Dioxide (CI 778161)
SKU: 10000-41-1